$

42.00
Badass Tattoo Cream: Now in Magick!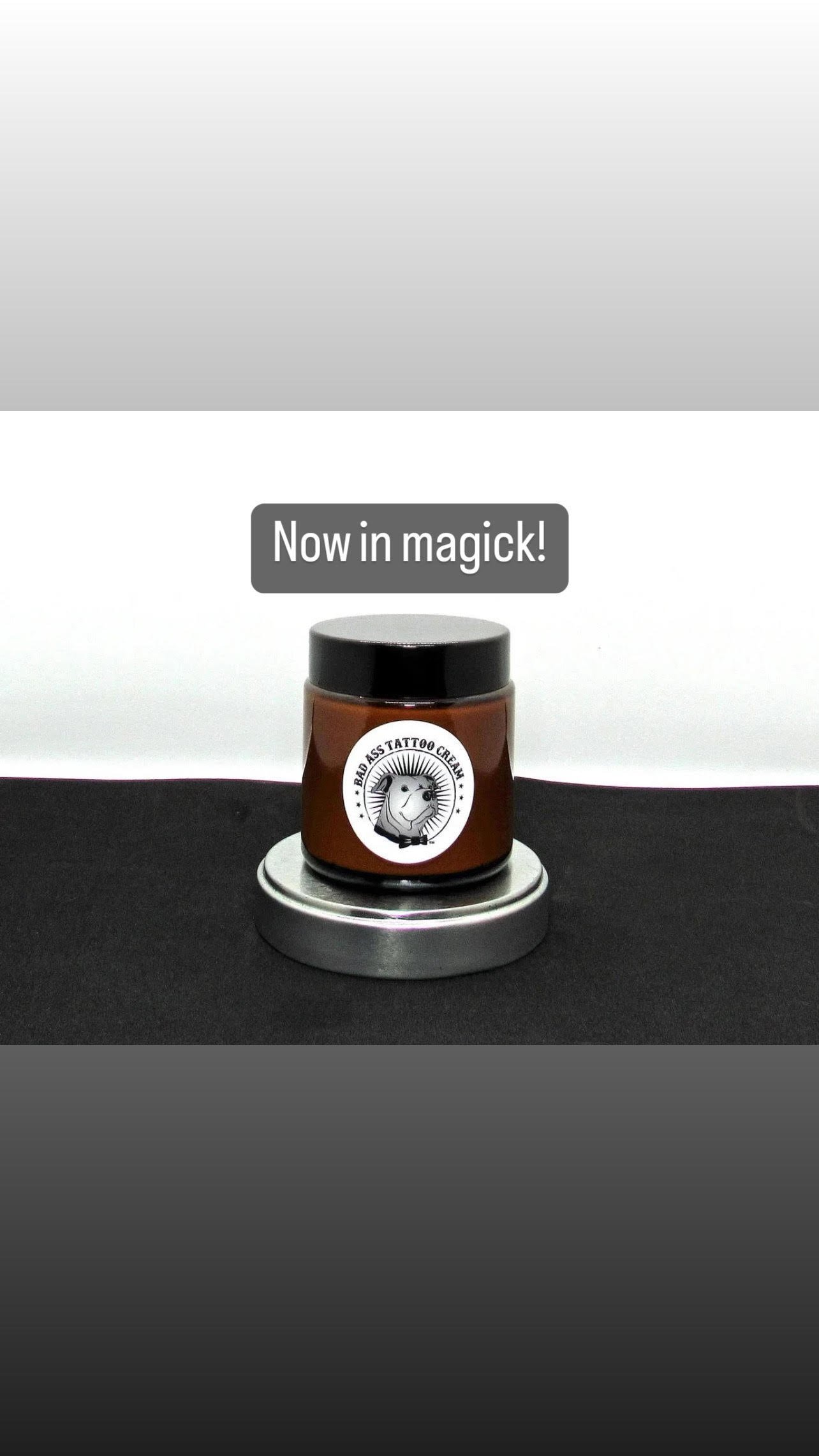 Like our original BATC products, same all natural ingredients BUT blended with our ceremonial oils!
Wear like normal, except set an intention every time you put it on and watch it start to manifest!
Please select below, size, and with our without CBD.
IN NOTES AREA PLEASE PUT WHICH OF OUR OILS YOU'D LIKE AS THE LOTION. Not all oils can be blended. The following can be:
-Attraction
-Bye Bitch
-Confidence
-Domination
-Hathor
-Heal
-Lotus
-Manifest
-Persephone
-Restore
-Spirit
-Usui
-Prosper
Healing aid for sensitive skin issues, eczema, extreme dry skin, sunburns, and fast tattoo healing - (before, during & after)
ORIGINAL badass tattoo cream is crafted to heal with each application. made with all-natural ingredients, badass tattoo cream will moisturize, rejuvenate, and speed up recovery time. badass tattoo cream is like no other salve, lotion, or product within the industry. badass tattoo cream is elemental and organic and restores the skin as it heals.
CBD-blends/pain management: badass tattoo cream began researching ideas to infuse full-spectrum CBD oils within its products. infused badass tattoo cream was introduced to the world via-social media. the response was great. infused badass tattoo cream was highlighted in PAIN MAGAZINE as the ultra-healer. reducing the pain of recovery, expediting the process to heal, soothing the itch to regenerate, infused badass tattoo cream is relief as you recover, and remains just as original—but with sparkle of spectrum. enjoy!
apply to areas as needed.
badass tattoo cream is an all-natural, fragrance free, petroleum free, and truly a 100% vegan product. badass tattoo cream is cruelty free and never tested on animals. each ingredient is listed on each bottle. No lanolin. No THC.
badass tattoo cream follows all CBD regulations
original lotion:
purified water, colloidal silver, shea butter, calendula officinalis flower extract, bisabolol extracted from chamomile, vitamin A [beta-carotene], Vitamin D [lichen], vegetable glycerin, aloe [barbadensus leaf juice]
infused-CBD lotion:
purified water, colloidal silver, shea butter, calendula officinalis flower extract, bisabolol extracted from chamomile, vitamin A [beta-carotene], Vitamin D [lichen], vegetable glycerin, aloe [barbadensus leaf juice], full-spectrum CBD