$

18.00
Syrups [16 or 32 oz bottles]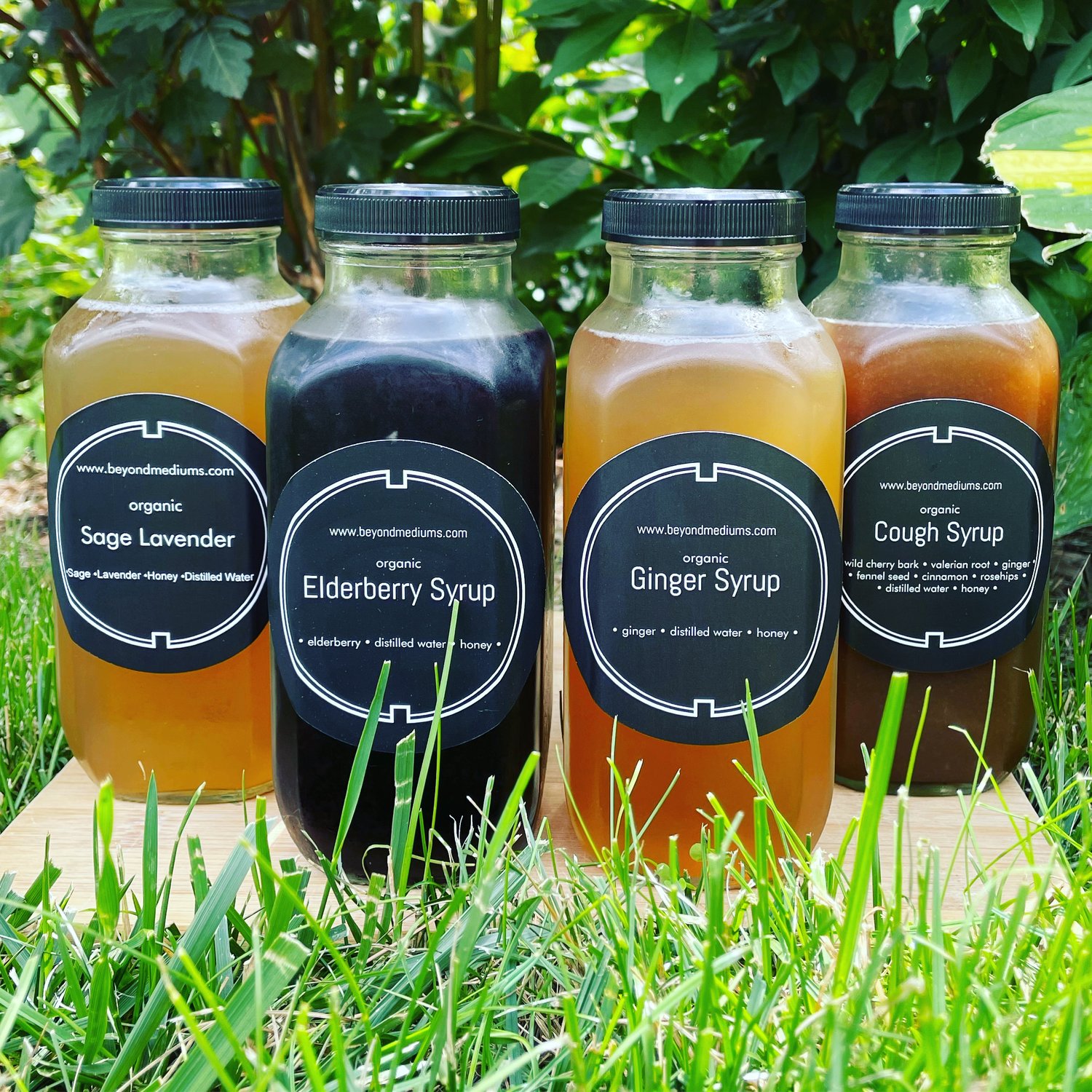 Elderberry Syrup -- made with organic elderberry, distilled water, organic raw honey. Elderberry is used to help reinforce, if not build, the immune system with anti-oxidants and anti-inflammatory agents that ward off colds and flu, during the seasons of change.
Ginger Syrup -- organic ginger, distilled water, raw honey. Ginger is a natural anti-inflammatory and anti-oxidant herb. It is said to be just as powerful, if not more powerful, than ibuprofen. It also helps with stomach ailments, nausea, muscle aches, digestion issues; also great for ailments of arthritis. It helps ward off common colds and flu.
Cough Syrup -- rosehips, valerian root, fennel seed, ginger, cinnamon, licorice, wild cherry bark. Each herb works together to help soothe the aches and pains of the common cold. There is a small trace of brandy to help extend the shelf-life of the syrup.
Sage/Lavender -- sage has been a medicinal herb for both clearing space as well as clearing the space of the body. Sage is an herb that helps the lungs, throat, and mouth as natural cough syrup. It works as an anti-inflammatory and cough suppressant, as well as an expectorant. This natural decongestant helps the body ward off irritation of a sore throat. Lavender accompanies aid in the sage by calming and relaxing the body of stress, but also aid in pain relief. NOTE: Do not use if pregnant or breastfeeding. Please consult physician.
Directions: Take two tablespoons in the morning for elderberry and ginger. Cough syrup: take two tablespoons, as needed.
Two tablespoons = One fluid ounce.
LEGAL DISCLAIMER: Please do not ingest any listed products if allergic to any of the ingredients. This product is not intended to treat, diagnose, care, or prevent any diseases. Consult local physician before taking if you are or may be pregnant. Merchant is not responsible for any reverse or adverse action.